The Fortnite battle pass is always a highlight of any new season. With Chapter 3 Season 3, players can unlock new skins and items while kicking back with the Vibin' Battle Pass for the perfect summer getaway.
Fortnite Battle Royale is an ever-evolving beast with many content drops over seasonal periods. Last season's Marvel skins caused a stir, with Doctor Strange and The Prowler forming the ranks alongside some original Fortnite characters. This season is no exception.
With famous faces like Darth Vader and Indiana Jones, there's plenty to explore in the new battle pass for the hardcore sci-fi and action fans that make up the Fortnite community.
This guide will walk you through everything you can find in this season's battle pass, from skins to items and more, so you can save up your precious V-bucks before you go on and splurge on the pass. .
However, if you're looking for the latest event-specific cosmetics news, you'll want to check out the latest Fortified Skins for all things Dragon Ball Z and more!
Think you're ready to get started? Let's review the contents of this season's Fortnite battle pass.
Fortnite Battle Pass: all unlockables from Chapter 3 Season 3
Fortnite Battle Pass: All Chapter 3 Season 3 Skins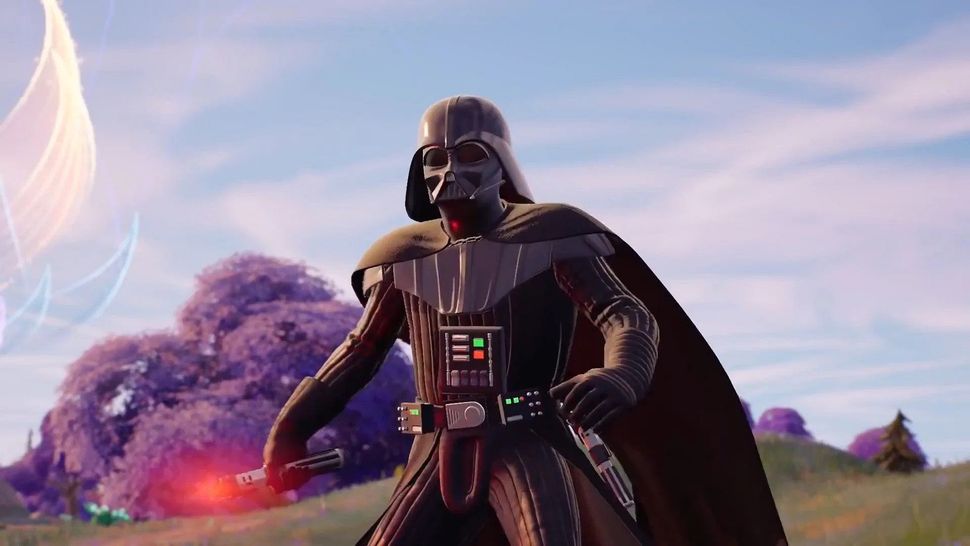 If you're about to purchase the latest Battle Pass, here's an overview of each of the unlockable characters and skins, along with their location in the Battle Pass:
| Character | Battle Pass Location | Variant location |
| --- | --- | --- |
| Evie | Obtained by purchasing the Battle Pass | Its Syndicate Couture and Neon Couture variants both cost 8 stars and can be unlocked on pages 2 and 9 respectively. |
| Instantaneous | Unlocked on the first page of the Battle Pass | It has 13 customizable rooms to unlock, which require three Tover tokens per room to unlock. These can be collected as you play. |
| adira | Unlocked after clearing page 3 for 9 stars | The Infiltrator variant can be unlocked for 8 stars on page 4. |
| Stormfarer | Unlocked on page 5 for 9 stars. | The Storm Brawler variant is available on page 7 for 8 stars. |
| Malik | Can be purchased on page 6 for 9 stars. | The Exalted Skin variant is also available, this time on page 7 for 8 stars. |
| Sabine | Can be unlocked on page 8 for 9 stars. | Burning Ember is on page 9 for 8 stars. |
| IndianaJones | Complete his Indiana Jones quests | N / A |
| dark Vador | Only unlocked on page 10 for 9 stars. | N / A |
Fortnite Battle Pass: Chapter 3 Season 3 Items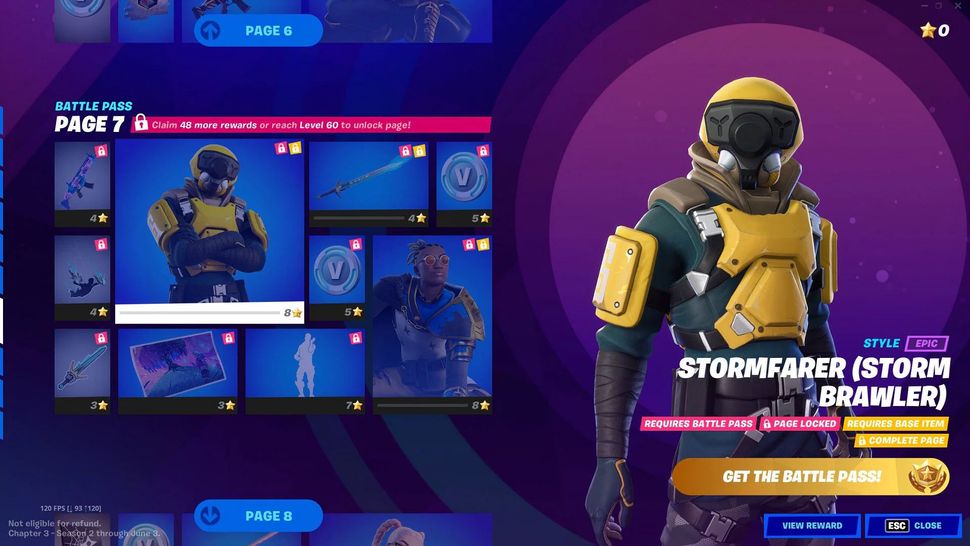 In addition to cool character skins, the battle pass contains a huge range of gliders, tools, and emotes to outfit your character in the best seasonal clothes stars can buy.
Here's an overview of each, excluding the cosmetics and styles described above:
| Article | Type | Battle Pass Location |
| --- | --- | --- |
| Double hit | Loading screen | Page 1 |
| Matching Blades | harvesting tool | Page 1 |
| 100 V-bucks | Currency | Page 1 |
| Run away | emoticon | Page 1 |
| The syndicate | Music | Page 1 |
| utility claymore | harvesting tool | Page 2 |
| Match | Loading screen | Page 2 |
| 100 V-bucks | Currency | Page 2 |
| Battle mode | Spray | Page 2 |
| Eh ? | emoticon | Page 2 |
| Explode | Emote | Page 2 |
| Articulated blade wing | Glider | Page 3 |
| pop it | Music | Page 3 |
| Bucks 100V (x2) | Currency | Page 3 |
| Last stop | Loading screen | Page 3 |
| Dragon Rune Spear/Style | Harvesting/styling tool | Page 3 / 4 |
| Ugh! | emoticon | Page 3 |
| Arm-y Guy | Emote | Page 3 |
| Dragon Rider / Infiltrator | Glider/Style | Page 4 |
| 200 V-bucks | Currency | Page 4 |
| Adira and the dragon | Loading screen | Page 4 |
| start the dance | Emote | Page 4 |
| Dragon Spirit | Spray | Page 4 |
| 100 V-bucks | Currency | page 5 |
| Valley of the Champi-Nites | Loading screen | page 5 |
| wrapped in love | emoticon | page 5 |
| Storm | Glider | page 5 |
| 200 V-bucks | Currency | page 6 |
| The King's Oath | harvesting tool | page 6 |
| It's finish | Emote | page 6 |
| sovereign griffin | Glider | page 6 |
| 200 V-bucks | Currency | page 7 |
| The tree | Loading screen | page 7 |
| Constant | Emote | page 7 |
| Charge! | emoticon | page 7 |
| wind ramp | Glider | page 8 |
| The Widow's Promise | harvesting tool | page 8 |
| distressed | emoticon | page 8 |
| Spinning Top Shuriken | Emote | page 8 |
| 100 V-bucks | Currency | page 8 |
| you are next | Spray | page 8 |
| Long drive home | Music | page 9 |
| 200 V-bucks | Currency | page 9 |
| We are vibrating now | Loading screen | page 9 |
| Lord Vader | Spray | page 9 |
| 100 V-bucks | Currency | page 10 |
| Sith Ascension | Loading screen | page 10 |
| Vader's Saber | emoticon | page 10 |
| Seal of the Empire | harvesting tool | page 10 |
| Imperial March | Emote | page 10 |
| Lamba-class shuttle | Glider | page 10 |
---