Fortnite Battle Pass Season 2 Chapter 3 has arrived, and it's brought with it a slew of new skins, like Doctor Strange. In this section of our complete Fortnite Battle Royale guide, we explain what all the rewards of the new Battle Pass are:
What is the Fortnite Battle Royale Battle Pass and how does it work?
The Battle Pass is a paid subscription, a premium service that is not required to play Fortnite, as it is a free game. However, it is recommended for those who play the most or want to obtain exclusive items, as it provides access to content that cannot be obtained or unlocked any other way. Each season has its own pass and these expire from season to season, so the Battle Pass for Chapter 3 Season 2, for example, will not be useful for Season 3. They all cost around 7, 99 $ approximately, but to buy them we must first obtain V-Bucks, the virtual currency of the game. V-Bucks are sold in batches through the digital store of the platforms on which we play.
However, there is also the option to get the Battle Pass for free. How do you get this? In addition to free V-Bucks legal methods, play constantly. The Battle Pass follows the progression system of the previous season, as we level up we will unlock pages with groups of objects that we can obtain by exchanging them for Battle Stars. Each level we climb will give us 5 Battle Stars that we can then use to buy Battle Pass items. Some of these rewards are precisely V-Bucks; so if we saved them in the previous season, it is perfectly possible to get the current season's Battle Pass for free.
Fortnite Season 2: All Battle Pass Items
Here is the complete list of all the Fortnite Season 2 Chapter 3 Battle Pass rewards. To get all the items, you will have to level up to level 100.
Page 1
Eye of Agamotto Spray: 3 Battle Stars
Back Bling Kata-Pack: 5 Battle Stars
Tsuki Banner Icon 2.0: 2 Battle Stars
Tsuki Reborn: 3 Battle Stars Loading Screen
Wrap 2.0's Revenge: 4 Battle Stars
100 V-Bucks: 5 Battle Stars
Kata Tech Burstwing Glider: 6 Battle Stars
Cyber ​​Smooch Emoticon: 3 Battle Stars
Omni Sword Harvesting Tool: 7 Battle Stars
Tsuki 2.0 Outfit: We automatically start the Battle Pass with this outfit in our locker
Page 2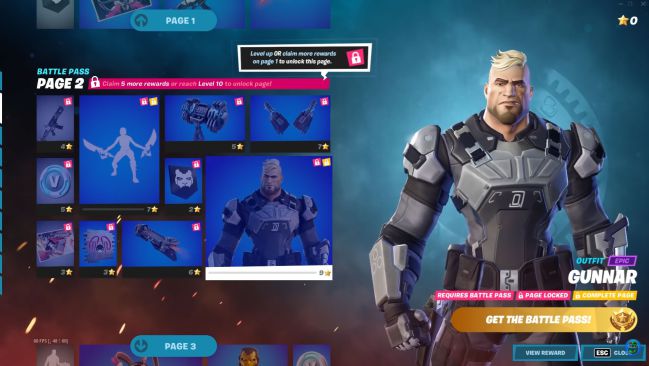 Gunnar's Special Pack: 4 Battle Stars
100 V-Bucks: 5 Battle Stars
Loading Screen Feel the Warp: 3 Battle Stars
Spray If Air Could…: 3 Battle Stars
Blade Break Emote: 3 Battle Stars
Glide Chain Surfer: 6 Battle Stars
Gunnar Banner Icon: 2 Battle Stars
Back Bling Buzz Pack: 5 Battle Stars
Harvesting Tool Punch Saw: 7 Battle Stars
Gunnar Outfit: 9 Battle Stars
Page 3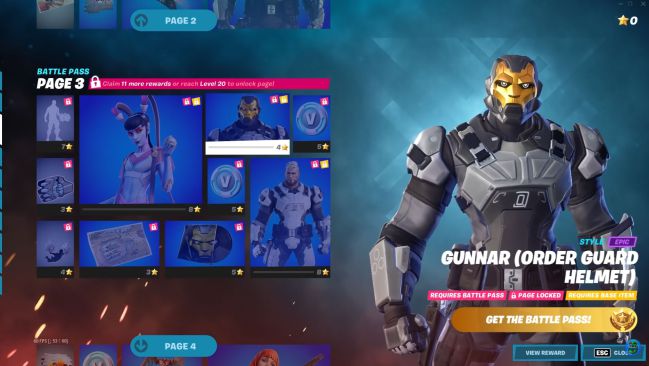 Cyclo Curl Emote: 7 Battle Stars
Gunnar Approved Emote: 3 Battle Stars
Contrail Chainpalms: 4 Battle Stars
Loading screen before attack: 3 Battle Stars
Music Get Ripped: 5 Battle Stars
100 V-Bucks: 5 Battle Stars
Style Tsuki 2.0 (Sparkling Pearl): 8 Battle Stars
Gunnar Style (Order Guard Helmet): 4 Battle Stars
100 V-Bucks: 5 Battle Stars
Artic Tac style for Outfit Gunnar, Back Bling Buzz Pack, Harvesting Tool Punch Saw and Glide Chain Surfer: 8 Battle Stars
Page 4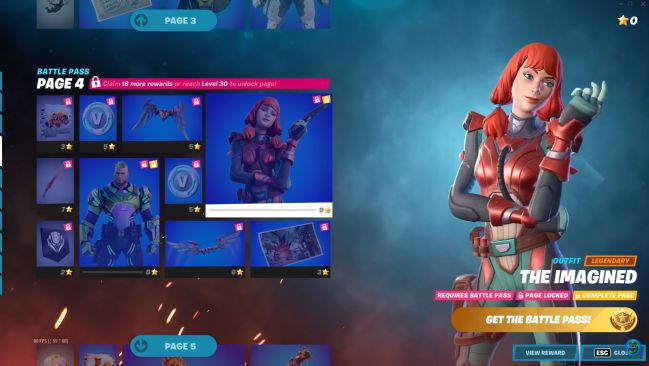 Spray Big Guns: 3 Battle Stars
The Imagined Blade Harvesting Tool: 7 Battle Stars
Banner Icon The Imagined: 2 Battle Stars
Ultra-Charge Style for Outfit Gunnar, Back Bling Buzz Pack, Harvesting Tool Punch Saw, and Glide Chain Surfer: 8 Battle Stars
100 V-Bucks: 5 Battle Stars
Back Bling The Imagined Wingspan: 5 Battle Stars
100 V-Bucks: 5 Battle Stars
Glide The Imagined Wingspan: 6 Battle Stars
Loading Screen Turn: 3 Battle Stars
The Imagined Outfit: 9 Battle Stars
page 5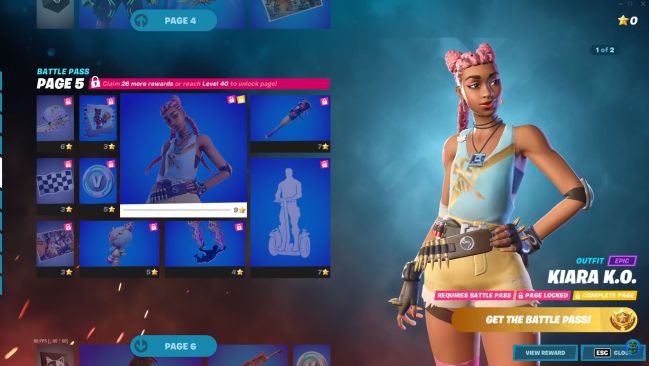 Glide KO Crusier: 6 Battle Stars
Emoticon Finish Line: 3 Battle Stars
Loading Screen Rebels: 3 Battle Stars
Spray Equipped: 3 Battle Stars
100 V-Bucks: 5 Battle Stars
Return Bling Fizzix: 5 Battle Stars
Captain Contrail's Tag: 4 Battle Stars
Segway Tour Emote: 7 Battle Stars
KO Club Harvesting Tool: 7 Battle Stars
Kiara KO Outfit y Style Sunglasses for Kiara KO Outfit: 9 Battle Stars
page 6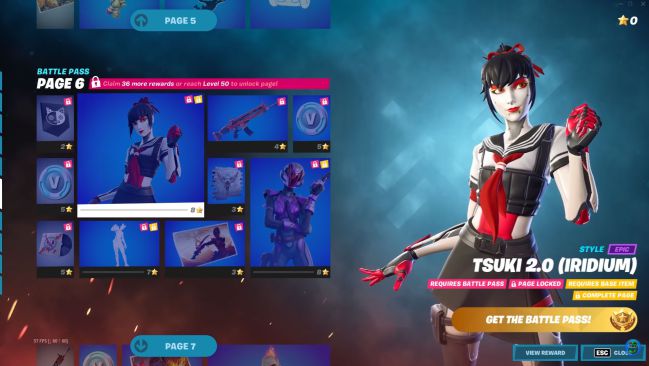 Fizzix Banner Icon: 2 Battle Stars
100 V-Bucks: 5 Battle Stars
Music I Just Wanna Fight: 5 Battle Stars
Bag of Essentials Emote: 7 Battle Stars
Imagination Unlimited Loading Screen: 3 Battle Stars
Iridium Style for Outfit Tsuki 2.0: 8 Battle Stars
Imagined Spray: 3 Battle Stars
Wrap the Imagined Aura: 4 Battle Stars
100 V-Bucks: 5 Battle Stars
Combat Elite Style for Outfit The Imagined: 8 Battle Stars
page 7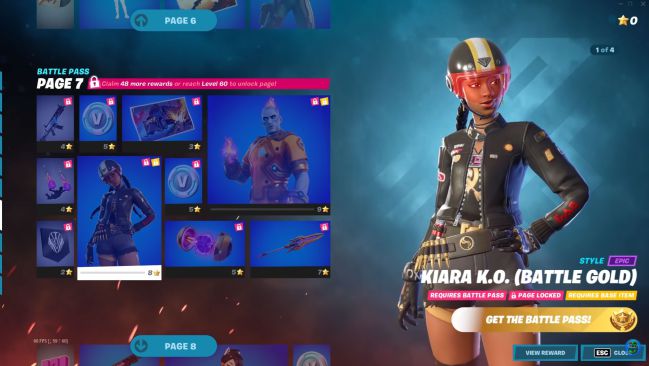 Wrap Original Number: 4 Battle Stars
Contrail Cube Fall: 4 Battle Stars
Banner Icon The Origin: 2 Battle Stars
100 V-Bucks: 5 Battle Stars
Battle Gold Style for Outfit Kiara KO, Back Bling Fizzix, Glide KO Crusier and Harvesting Tool KO Club: 8 Battle Stars
100 V-Bucks: 5 Battle Stars
Armored Battle Bus Loading Screen: 3 Battle Stars
Back Bling Cube Aether: 5 Battle Stars
Cubic Scepter Harvesting Tool: 7 Battle Stars
The Origin Outfit: 9 Battle Stars
page 8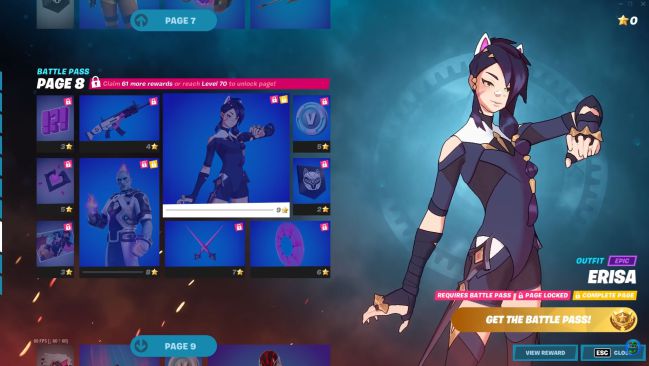 Emoticon!?! : 3 Battle Stars
Back Bling Love Lock: 5 Battle Stars
Return of the Hunter Loading Screen: 3 Battle Stars
Granite Gray style for Outfit The Origin, Back Bling Cube Aether and Harvest Tool Cubic Scepter: 8 Battle Stars
Wrap Erisa's Crest: 4 Battle Stars
Gathering Tool Guardian Daggers: 7 Battle Stars
Glide Wheel of Daggers: 6 Battle Stars
Erisa Banner Icon: 2 Battle Stars
100 V-Bucks: 5 Battle Stars
Erisa Outfit: 9 Battle Stars
page 9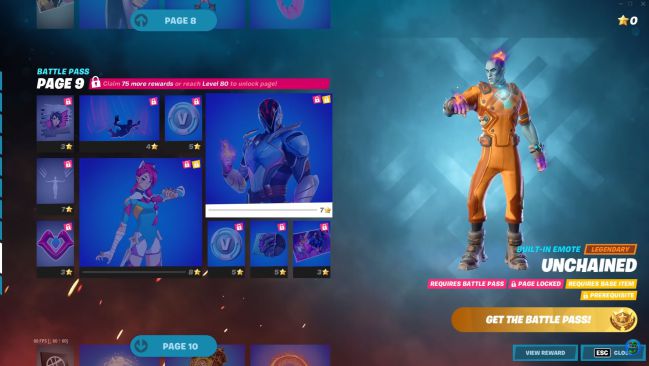 Erisa Alert Spray: 3 Battle Stars
Dagger Dance Emote: 7 Battle Stars
Happy Heart Emoticon: 3 Battle Stars
Contrail Fallen Daggers: 4 Battle Stars
100 V-Bucks: 5 Battle Stars
Cerulean Style for Erisa Outfit, Glide Wheel of Daggers, Back Bling Love Lock, and Harvesting Tool Guardian Daggers: 8 Battle Stars
100 V-Bucks: 5 Battle Stars
Music Origin Anthem: 5 Battle Stars
Fallen Kingdom: 3 Battle Stars loading screen
Embedded Unchained Emote for Outfit The Origin: 7 Battle Stars
page 10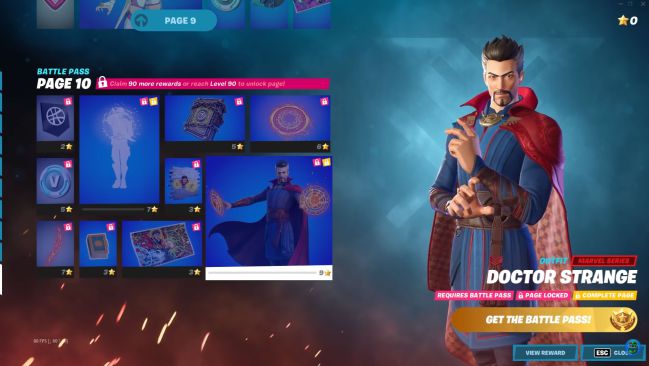 Cagliostro Banner Icon: 2 Battle Stars
100 V-Bucks: 5 Battle Stars
Spellwork Scimitar Harvesting Tool: 7 Battle Stars
Emoticon Book of the GG: 3 Battle Stars
Sorcerer Supreme Loading Screen: 3 Battle Stars
Spray Tao Mandalas: 3 Battle Stars
Cagliostro Bling Book: 5 Battle Stars
Emote Summon Weapon: 7 Battle Stars
Mandala Glide Disc: 6 Battle Stars
Doctor Strange Outfit: 9 Battle Stars